Repair
If your firearm is broken, worn out or malfunctioning talk to Al and we'll see if we can fix it, get parts to repair or replace it or make some adjustments to get it in safe working order again.
We offer a full range of repair from replacing firing pins or springs to locating and fixing obscure new and replacement parts.
A firearm that is not bedded correctly can break your stock or cause the firearm to shoot poorly. Talk to Al about bedding or re-bedding your shotgun or rifle. Glass bedding can prevent further stock damage and improve gun performance.
Happy Customer Comments:
 "Al,
USPS delivered my fore end this afternoon.  After re-assembling my gun, my impression is that you could not have achieved a better result if you made a new fore end.  Thanks a lot for your good work.
Happy New Year!
Cleaning
Sometimes common cleaning methods are not enough.  A deep thorough cleaning will often resolve some of firearm problems and extend the life of your investment.
Custom Stock Fitting Alterations
Including:
Recoil Pads (spacers, pitches, custom adjustable plates)
Stock pitch corrections
Length of pull adjustments (including adding or reducing butt plate dimensions)
Adjustable combs
Recoil system installation for maximum customization to your fit, comfort and style
Bedding
Adjustable Recoil Systems

 

A properly fit firearm means better success in the field. Have Al help you determine correct length-of-pull, pitch, sight alignment and comfort of fit. You will be amazed at the difference it makes
Adjustable Combs Installed

Clay Shooters, give yourself the competitive edge by having your stock customized to your sport. A fully adjustable comb or butt plate gives you the correct fit and point-of-impact and will put you right on target every time
Wood Refinishing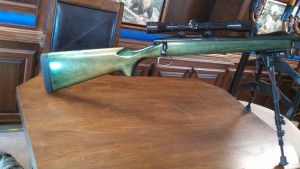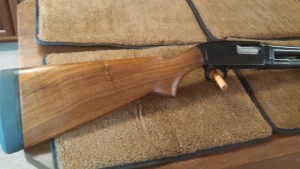 Services include:
Stripping of standard finishes, sanding and re-finishing to meet your specific needs
Removal of small dents and nicks,
Splinters, cracks or broken wood can often be repaired or replaced
Custom checkering and checkering repair (many dings or dents in stocks and checkering can be repaired to match the current condition of the firearm finish)
Finishing:
Oil (ask about options available)
Satin (sprayed or hand-rubbed)
Gloss (sprayed or hand-rubbed)
Lacquer (gloss or satin)
Stock Checkering
 Examples of my work:



In Progress  
Damage Repair